About Bishop Sheen
Archbishop Sheen, best known for his popularly televised and syndicated television program, Life is Worth Living, is held today as one of Catholicism's most widely recognized figures of the twentieth century.
1895
Fulton John Sheen, born May 8, 1895 in El Paso, Illinois was raised and educated in the Roman Catholic faith. Over the course of many dedicated, steadfast years, he was ordained a priest of the diocese of Peoria at St. Mary's Cathedral in Peoria, IL on Sept 20, 1919.
Following his ordination, Sheen moved overseas to further his education and earned a doctorate in Philosophy from The Catholic University of Louvain in Belgium in 1923. That same year, he received the Cardinal Mercier Prize for International Philosophy, becoming the first-ever American to earn this distinction.
Upon returning to America after varied and extensive work throughout Europe, Sheen continued to preach, as well as teach theology and philosophy at the Catholic University of America in Washington DC.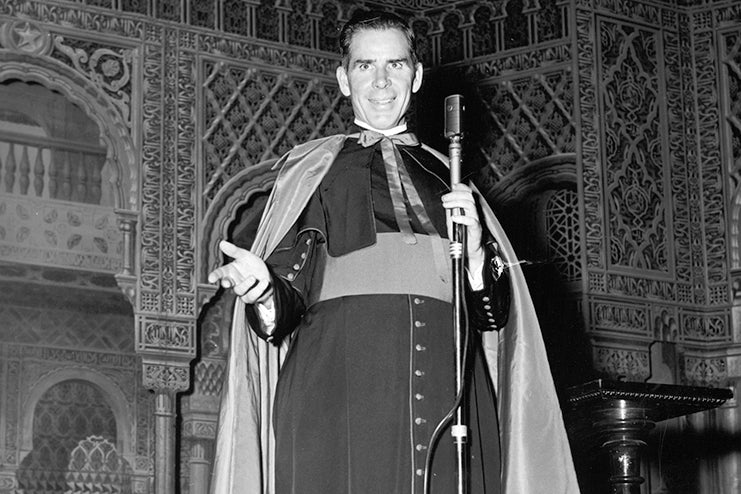 1930
Starting in 1930, after just eleven years of priesthood, Sheen hosted a weekly Sunday night radio broadcast called The Catholic Hour. This broadcast captured many devoted listeners, reportedly drawing an audience of four million people every week for two decades.
In 1951, Sheen was appointed Auxiliary Bishop of the Archdioceses of New York, the same year he started Life is Worth Living. Life is Worth Living ran until 1957.
Bishop Sheen hosted another television series, The Fulton Sheen Program, running from 1961 to 1968 that closely modeled the Life is Worth Living series.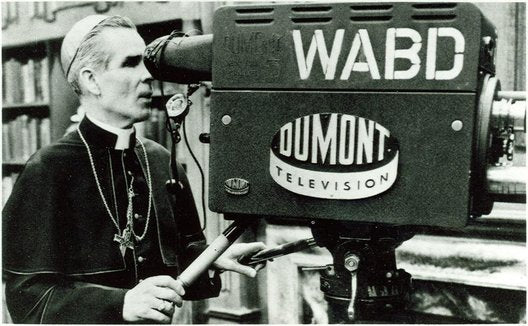 1966
In the fall of 1966, Sheen moved to New York's upstate, where he was appointed Bishop of Rochester and would serve for nearly three years.
Eventually, Sheen resigned and was appointed the Archbishop of Titular See of Newport Wales by Pope Paul VI. This new appointment allowed Sheen the flexibility to continue preaching.
In 1979 Fulton John Sheen received his greatest accolade when Pope John Paul II embraced him at St. Patrick's Cathedral in New York City. The Holy Father said to him, "You have written and spoken well of the Lord Jesus. You are a loyal son of the Church." With that last acknowledgement, Fulton Sheen passed into eternal life just two months later on December 9, 1979.
On September 14, 2002, the Congregation for the Causes of Saints officially opened the Cause of Archbishop Sheen and granted him the title "Servant of God." An effort is underway to have the Archbishop canonized.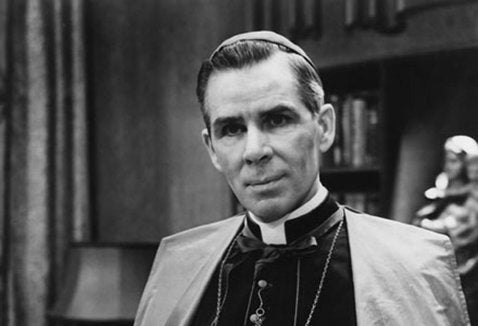 2009 to now
In 2009, the diocesan phase of the investigation of Sheen's sainthood came to an end, and the records were sent to the Congregation for the Causes of Saints at the Vatican in Rome.
On June 28, 2012, the Vatican announced officially that it had recognized Sheen's life as one of "heroic virtue", a major step towards eventual beatification. From this moment on, Sheen is styled "Venerable Servant of God".
On June 14, 2016, it was announced that Sheen's surviving family petitioned the New York Supreme Court to allow the transfer of Sheen's remains to Peoria.
Years later, the Archdiocese of New York announced on that it was officially giving up the fight to keep Sheen's remains under the altar at St. Patrick's Cathedral in New York and on June 27, 2019, Sheen's remains were transferred to St. Mary's Cathedral in Peoria.
In July 2019, the Vatican Congregation for the Causes of Saints approved Sheen's miracle needed for beatification. The miracle involves the unexplained recovery of James Fulton Engstrom, a boy born apparently stillborn in September 2010 to Bonnie and Travis Engstrom of the Peoria-area town of Goodfield. Engstrom's parents prayed to the late Sheen for his recovery. Pope Francis approved the miracle, and Sheen was scheduled for beatification on December 21, 2019, at the Cathedral of St. Mary in Peoria.
On December 3, 2019, the Diocese of Peoria announced that the beatification of Sheen would be delayed.